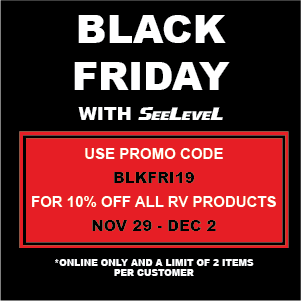 From November 29 until December 2 we will be having a SeeLeveL RV product sale! Use the promo code BLKFRI19 for 10% off ALL RV products!
Go to our Product Page to start shopping!
This is for online orders only. There is a limit of 2 products per customer. The sale begins at 12:00am MST November 29, 2019 and ends at 11:59pm MST on December 2, 2019.