The premium monitor, with superior reliability.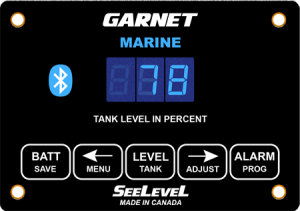 The SeeLeveL™ tank monitor provides percentage full, accurate tank measurement readouts. These readouts are accurate within 3/8 of an inch.
Reliable external sensors
Our trouble-free senders adhere externally to the holding tanks eliminating sewage build-up on the sensors.
Simple to install and retrofit
Two wires connect to your existing system wires and function on a common bus system. Accessible tanks are easy to retrofit.
Customize to fit your tank
Senders are designed to be easily shortened or two can be combined to accommodate almost any holding tank shape or size. (The system will not work with metal tanks.)