RV Tank Monitors
The SeeLeveL™ RV Tank Monitor represent a massive leap forward in level measurement technology for the Recreational Vehicle industry.
The SeeLeveL II™ and SeeLeveL III™ have a combination of features, accuracy, reliability, and diagnostic capability that have never been available before.
About RV Gauges
The SeeLeveL II™ RV Tank Monitor series is available in many different configurations to meet most any motorhome, fifth wheel or travel trailer tank configuration. Each system provides tank level information using a percentage of full readout. Detailed diagnostic information is available through the system monitor and systems are available to monitor up to 4 tanks, battery voltage and LP levels.  See more information below.

Our Latest RV News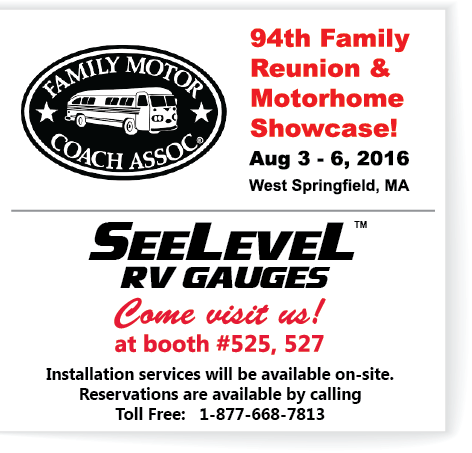 FMCA 94th Family Reunion and Motorhome Showcase
April 26, 2016
The Family Motor Coach Association (FMCA) 94th Family Reunion and Motorhome Showcase will be on August 3 - 6, 2016 in West Springfield, Massachusetts. We will be set up at booth #525, 527 and we will have installation services available on-site. We can take reservations by calling Toll Free: 877-668-7813. For more…
Learn More About RV Tank Monitors